Bracelet Organization
I feel like I've been searching for the perfect way to store my bracelets since I retired. While I was practicing dentistry, I rarely wore bracelets (for some strange reason, patients frown upon being hit in the face with them–ha ha). So at that time I only had a few of them and keeping them in my jewelry storage case was relatively simple.
But now is a different story—I blame all the fabulous bloggers out there that tempt inspire me to wear them more!! So let me explain my issues. The "normal" bracelet holders are shaped as a t-bar—which to me is frustrating because I have to take off all of the bracelets that are in the way of the one I want to wear.
So I tried to get creative! The next three photos are what I've been using for the last two years.
I liked this setup for some aspects, but not all! Let me explain. The wood piece was taken from my husband's previous job when they moved offices. It originally hung a large picture and as the picture was going to storage, it wasn't needed. So I thought I'd try to use it for my bracelets. I placed screws into the wood in intervals and places wine corks over the screws (after drilling out a portion of the cork). And it worked reasonably well, but I never attached it to the wall so it wasn't entirely stable.
Advantages: 1- I had room to expand (notice the empty area at the bottom—although it would require some squatting or leaning to get to that lower area).
2-I could see my bracelets easily.
3-They were also relatively easy to retrieve. I only needed to remove one or two other bracelets to get to the one I wanted.
4-Since I placed the corks/screws where I wanted, the bracelets didn't overlap too much!
5-By not attaching it to the wall, it did make relocating it much easier.
Disadvantages: 1-It did fall over once when one of our the kitties decided to rub up against it. Of course, it scared her enough, that she didn't do that again!!
2-Some of my cuff bracelets wouldn't stay on the corks. They did hold better on the horizontal wood  "cross beam" that held the 2 slats together, but then I wasn't able to locate them in their respective color organization spot.
3-It really wasn't easy to replicate, unless someone is a fabulous DIYer.
So I had to improvise when I helped mom & Nancy with their jewelry organization and we ended up getting them a belt holder (or two) like this: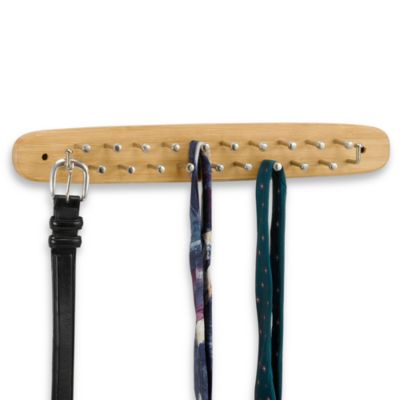 found here. I feel that the problem with this piece is that the pegs don't move, so some bracelets just don't fit as well.
When we were cleaning out mom's basement to purge many of the items we had moved but not used, I came upon this magazine rack that was leftover from my dental office:
Unfortunatly I had left the rod to attach it to the wall behind. However, I thought it might be perfect modifying it with a couple items from IKEA to make me a better bracelet organizer! Here's a link to the hooks  and one to the rail if you're interested! It definitely made for an inexpensive holder! If you are looking to recreate it I found a legging holder at BB& B that might work with some overlapping (here) or you could certainly get a couple of rails to use! Heck, you might have something sitting around the house that would work with a couple of modifications!
Confession time: I rescued the magazine rack from our recent garage sale. One shopper asked me what it was, and I responded that it was a magazine rack. As I said that, I had the idea that it could be some kind of organizer. Since that person didn't buy it, I kept it!
And here it is!
So far, I'm very happy with it. I can move the bracelets very easily and purchase more hooks in case I happen to get more bracelets. Let's just say that the statistics are overwhelmingly positive for that….
Thanks for reading my ramblings!! How do you organize your bracelets?
This week for our styling, the three of us will be donning our yellow shoes. Do you have any?