What to Wear for Valentine's Day Dinner as Date Night & Linkup
Quote of the day: "It is not a lack of love, but a lack of friendship that makes unhappy marriages."  Friedrich Nietzsche
Best friends is definitely what Rob and I are. If you have ever met us, I'm sure you would agree. Or as my mother says, we are joined at the hip. To us? That's a good thing. And today, I am joining up with Carrie from Curly Crafty Mom in her weekly fashion files linkup below.
I couldn't include a what to wear for Valentine's Day post without including my husband, now could I? The holiday has grown to include your girlfriends with Galentine's day as we showed earlier. But for those of you with a date for dinner, let me share our outfits along with our history.
Rob and I will be celebrating our 15th year anniversary on Valentine's Day. We truly are soul mates, but the real reason we got married on Valentine's day is because it landed on a Saturday in the month we were planning to get married. Just keeping it real. I do love that it's our anniversary though. It makes it so cute.
You might laugh at how we met. It was through 8 minute dating which is a speed dating service. One of my questions to him was had he ever worn a skirt. We laugh about all these fun details now. But "no" he's never worn a skirt.  There's so much more to the story. But I won't bore you today.
Jodie's Outfit
Dress: All Green (similar here)~~Shoes: Kenneth Cole-thrifted (similar here)~~Earrings: (similar here)~~Purse: c/o thredUp (similar here)
Why I Wore This Outfit
This is my fancy red dress, and I haven't worn it for awhile. It's one of those that travels so well because it doesn't wrinkle. But really it's not perfect for me at Valentines day unless we are somewhere warmer being that it's basically sleeveless. So this year, I thought I'd add a black t-shirt under it since that worked so well with my Galentine's dress outfit.
It's not my favorite look though. I chose a black t-shirt because of the black sequins on the dress, but the v-neck is all wrong. I also don't love that the sleeves aren't as fitted as my Galentine's look. That's probably not obvious to anyone but me, but it's something I noticed. Luckily my hubby would love me even if I was in a potato sack, so that's not an issue.
I wanted to change up the shoes, since I've worn it with black and nude before. So I grabbed my pink heels. It makes me wish I'd worn a pink t-shirt under the dress. But I don't have a long sleeve pink one. Something I should put on my wish list next time I go thrifting.
My original thought was to wear a pair of My New Arms to keep warm. The only thing is the back of the dress is SO low, that you would've seen the back portion of the My New Arms. I think that's one of the reasons I haven't worn this dress much lately. It takes a lot of finagling with my bra to not have it show. That's why I like the idea of a t-shirt under it.
I also considered a lace top, but it seemed like too much with the sequins. I should've tried it on though. Sometimes you never know. Unless you all have any ideas?
Rob's Outfit
Pants: INC (similar here)~~Jacket: H&M (similar here)~~Top: Van Heusen (similar here)~~ Shoes: Aldo (similar here)~~Tie: Jhane Barnes (similar here)
Why Rob Wore This Outfit
I will tell you that it makes life so much fun that my hubby loves dressing up as much as I do. Let's just say he's come a long way since we first met. True and funny story is that he only had khaki pants and ugly plaid shirts when we first started dating. And now look at him. He gets told how dapper he looks so much.
In fact, this blazer is new. Not that we were looking to get him a new one, but we happened to be in H&M and this one caught his eye. There are times he will throw one on with jeans which is one of my favorite looks. You have to realize that Rob reads my blog, so he really takes to heart what I say.
Besides, he realizes how nice it is to be complimented on his outfits. Heck, we've even gotten stopped by a security guy at the airport, giving us kudos for our wonderful looks. It's may only be appearances, but our appearance can make us feel good about ourselves.
Rob's become a pro at pulling out shoes that don't "match" yet go with the outfit. I happen to think that a fun pair of shoes can make any day brighter whether you're male or female. And if you would see all of Rob's shoes in his closet, then you'd see that he agrees.
Tips & Tricks
First of all, I wanted to show you that I have worn this dress many times before. I think the photos below were from 2011 and 2012. Usually for Valentines day dinner with my sweetie, but never with a top underneath. The last photo is with one of my wigs. I used to wear it all the time on the weekends, and I loved it. I still have it, but haven't worn it for years. Yet I'm still a fan of them. One of these days, I'll do a blog post about them.
As for giving advice about what to wear for Valentines day dinner, I have many ideas. First don't worry if you wear the same dress every year. You (and maybe your date) are the only ones that are going to know this fact. And it could be a great exercise to see how to change up the look.
Because even if you think that one look was "perfect", you'll never know if something else would look even better. Besides, it's good for the brain to play with your clothes this way. In fact, it was a theme one time on the blog with this idea from an ADD coach, Madelyn.
You can see that I get into ruts too with my outfits. Did you notice that I paired the same earrings with it this time as below?
Another idea would be to consider renting your dress. I've used Rent the Runway in the past and was always happy with their service. I figured for under $50, I could get a great dress to wear and not have to stress about trying to wear it again.
But let's not forget that the whole idea of going out to celebrate is to enjoy each other's company. It's not really about the clothes at the end of the day. So have fun, and eat dessert first.
Thursday Fashion Files
Link Up Guidelines:
Follow Jodie: 
1. Feel free to grab the button to display on your blog sidebar. Help spread the word and share about our link up community.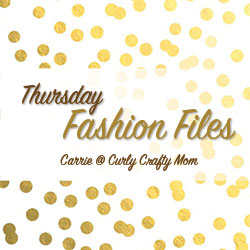 2. **By adding your links, you are stating that you have the proper licensing/rights to the images in your blog posts.**
My pick from Carrie's Party last week:
is Jill's outfit. I think this is a perfect way to add in some of the Valentine's holiday spirit while still keeping it casual.
The Facts
 I'm so glad to report that you should be able to Pin these images to your own Pinterest now. So I'd love it if you help me out and pin away! 
Even if you wouldn't consider purchasing your clothing online, it can be helpful to look through my links to see what is available! It certainly doesn't hurt my feelings, if you click on them but don't like them. Just so you know, one of the ways I make money from this blog is through these linked items.
See More of the Fun
Why should you follow me on other social sites? Well, I do share different things on each platform, so I hope you'll join me on Facebook, Pinterest, Instagram, and You-Tube.
Why should you sign up for the emails to let you know when a post goes live? Because I have a monthly giveaway for email subscribers only.  Just add your email to the pink box that says smile and click here.